Posted in
Registry
,
Relationships/Premarital Counseling
and tagged with
home
,
moving
on 08/25/2009 10:07 am by michelle
Did you wonder where I went? Well, last week I basically put our wedding to-do list on hold (including blogging unfortunately) to get ready to move into our new place! A few weeks ago after we got approved for our lease Mr. Ducky brought me this cute sign and roses to to surprise me with the news. Since then between the wedding and preparing to move it's been a whirlwind.

This is right after Mr. Ducky brought home the good news.  Excuse the make-up-less picture. At least I'm real with you all right?
The packing seemed to never end last week. Mr. Ducky and I were basically moving from 3 places; my house, his house and I had lots of stuff stored at my parents. The process was a little crazy. For example taking a box of computer stuff from my house, a box from his and trying to combine it into one box. However, we finished everything we needed to do and were prepared for the move.
Because we moved to a new apartment community it wasn't available for move in until this last Saturday. Yes, a little hectic considering it's less than 2 weeks to the wedding and it was my bachlorette party this last weekend (more on that later). However, my dad, brother, uncle and cousin came up to help Mr. Ducky with the move since I was gone all day Saturday. They were such a huge help. Mr. Ducky treated them to dinner at one of our favorite BBQ places Bad to the Bone as a thank-you.
Sunday was spent unpacking and my parents and brother came up again when I got back to help unpack the kitchen. It was so fun to unpack all of our registry stuff and fun appliances. There was just something so exciting about unpacking things into our own place. Our community is an all green community so everything is energy efficient. Double paned windows, high efficient washer and dryer and a toilet that has flushes for #1 and #2. TMI? Maybe, but all the guys were laughing about it so I thought I'd share with you. What's with guys and bathroom humor?
I was absolutely thrilled to get our Kitchenaid Mixer from my grandparents.  Mr. Ducky documented the opening to send some pictures to them for thank-you.  I can't wait to start using it.

Want to know about our "freak out" of the weekend? As we were unpacking our dishes Mr. Ducky noticed that the backs of our dishes didn't say "dishwasher safe." Well we went to check on the Crate & Barrel website and sure enough we found that it said "hand wash." We were so disappointed! We reluctantly set the boxes aside to exchange at another time. We told my parents about it and started looking at new sets. Well, yesterday I decided to check one more time and suddenly I found in the description that it said, "dishwasher, microwave and oven safe up to 300 degrees." What!?!? Well after a little investigating I figured out there was another dish set that looked similar to ours that was the hand wash and ours were really okay. We put them through the dishwasher last night and everything was still perfect. We were so happy and relieved. We love our dishes! They are the Stockton collection at Crate and Barrel.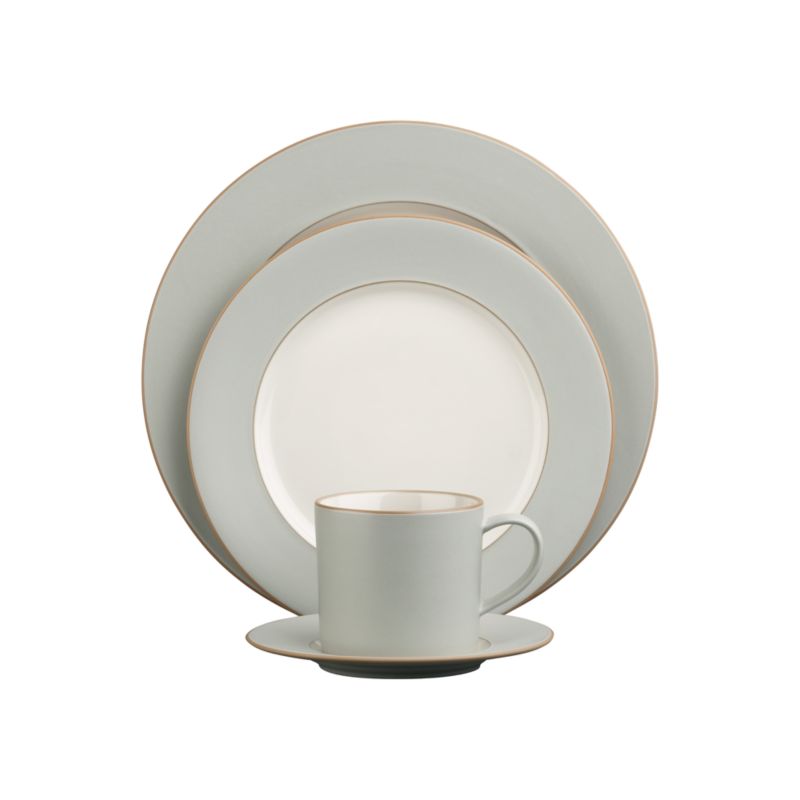 Source
Now with less than 2 weeks to go until the wedding we have some SERIOUS DIY to get done. I'll try to keep you guys as updated as possible. We are going to be working away and I have some friends coming this weekend to assembly line it. Don't worry, the invitation tips & tutorial post is coming up this week though.
I love our new apartment, but am still waiting it for to to transition from being that really nice place to being our new HOME. We have lots of work to do and some will probably wait until after we get back from the honeymoon. I'm stocking up on my design blogs now in Google Reader.  We feel so blessed are excited to make it home.
What do you do to make a new place feel like home? Anyone else move right before the wedding?